Anna Ray
Born 1975 Leeds, UK, now living in Hertfordshire
1994-1997 BA(HONS) Tapestry
1997-1999 Master of Fine Art Tapestry
MFA Andrew Grant Bequest Scholarship, John Florent Stone Memorial Scholarship
2000-2006 Lecturer
I studied Foundation Art and Design at Jacob Kramer College of Art in Leeds. At that time I was making appliqué and embroidery work based on pornographic images. My Fine Art tutor Sean Kaye recommended the Tapestry department to me, as I was interested in working with textiles but within a fine art context rather than design. I visited the department and immediately sensed that I was in the right place. The course allowed me to experiment with any media and approach but I also learned traditional techniques. I worked with stitch, photography, performance, installation, video and digital imaging (still then in its infancy), alongside developing my own personal approach to drawing.
I consider making to be a search and I am driven by experimentation and what happens subconsciously when I handle materials. I prefer to follow my instincts, exploring my ideas freely rather than always working in the same way. I move towards territory that is complex rather than safe and subject matter that is exposing, such as using my own body. It is important to me that the work has a lasting impact on the viewer, that there is an intense physical or profound emotional response, equal to the excitement or emotion that I feel when making the work.
The head of department Maureen Hodge was a major influence in the development of my work both as my tutor, and later as my colleague when I began teaching. I have learnt a great deal from seeing her teach, her charisma and boundless enthusiasm. She is still my mentor, although now we link our studios using Skype. She always finds the time to talk with me about my work, encouraging me to take risks, never failing to show me new ways of looking at things.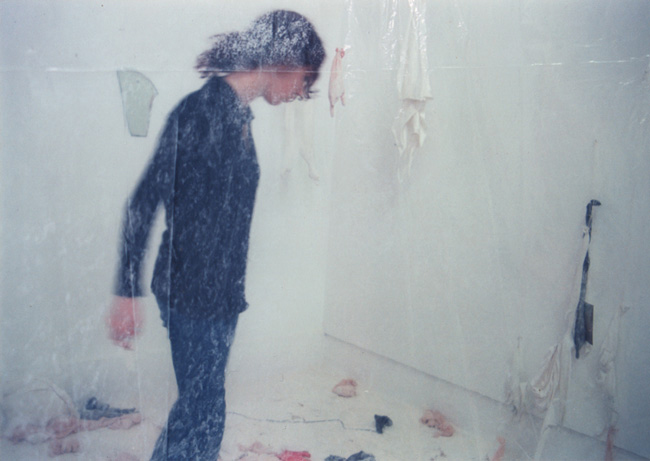 Studio, final year BA(Hons) Tapestry, Edinburgh College of Art, 1999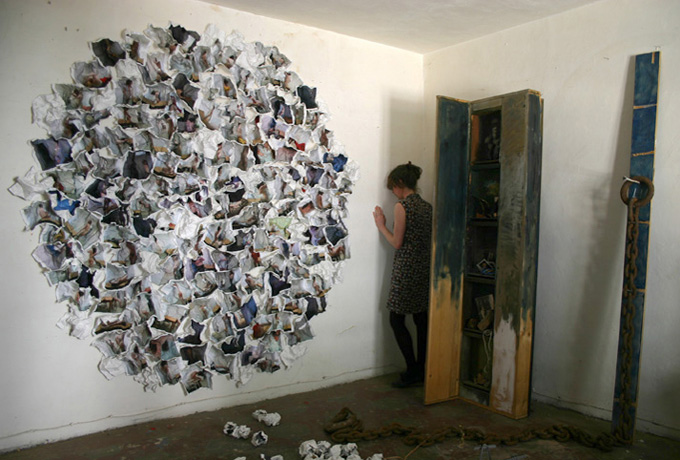 Collaborative installation with Giuseppe Coco, Como, Italy, 2012
Selected Exhibitions
2012 'Collect' Project Space, Saatchi Gallery, London
2010 'Miniartextil - Un giorno di felicità' Chiesa di San Francesco, Como, Italy
2002 'Presence' Fruitmarket Gallery, Edinburgh
1999 'Contemporary Decorative Arts' Sotheby's, London

Selected Collections
Paintings in Hospitals, London
Influences
Historical textiles, Biology, Symbolism, found objects, art house films
People
Louise Bourgeois, Annette Messager, Barbara Kruger, Pierre Bonnard, Pablo Picasso, Vito Acconci, Tony Oursler, Sophie Calle, Gilbert and George, Agnes Martin, Jackson Pollock, Lucio Fontana, Hannah Höch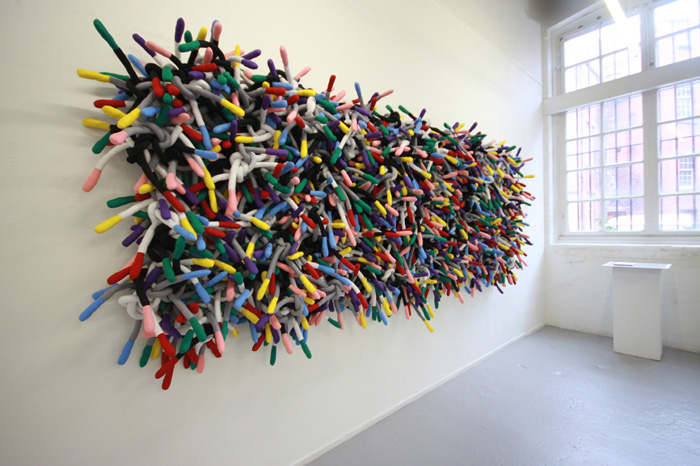 'Knot' cotton, wadding, machine stitch, 2007