Joan Baxter
Born 1955 Edinburgh, Scotland, now living in Brora, Sutherland
1973-1976 DA (Edin) Tapestry
1976-1977 Postgraduate Diploma Tapestry

My passion for tapestry arrived suddenly on the first day of my introduction to it in my first year at ECA. I don't remember ever having consciously thought about tapestry before that day but I somehow knew that eventually I'd be really good at this. From that day I have been able to plough a straight path deeper and deeper into tapestry, through my studies in Scotland and Poland, my 8 years as a studio weaver in England and Australia and since 1987 as an independent tapestry artist. The demanding creative ethos of the tapestry department gave me the confidence, motivation and self-discipline I needed to move out into the world as a professional tapestry weaver and artist. What was most inspiring for me as a young student was that my tutors in the department were all practising, exhibiting artists engaging positively with what was then a cuttting edge international Fibre Art movement.

The 1970s was an exciting time to be a tapestry weaver in Edinburgh. We felt we were part of a bough wave of fundamental change in the art world and this was hugely exhilarating. Talking to those who studied tapestry at ECA in the 80s and 90s, I think it was still a time of innocence too. This was a time before degrees - we still got diplomas - and long before the department moved to the School of Drawing and Painting. We did almost no written work and no theory, and apart from our one day a week life drawing, all our time was spent making tapestries. Although we were aware of interesting work being done in the US and in Eastern Europe through the small number of books and catalogues in the college library and a few memorable exhibitions, we didn't have any direct outside input into our education so although it was a slightly incestuous scene we did develop a distinctive Edinburgh College of Art style which I can still recognise in people's work today.
I have spent many years exploring a sense of place and trying to depict the emotionality of landscape purely through composition, narrative and colour in the traditional tapestry form, especially in my commissioned work. Over the past ten years or so I have introduced more experimental materials and forms in my personal work. Most recently I have embarked on making collaborative work with a choreographer, this has been very exciting and I hope it will lead to more collaborations in the future.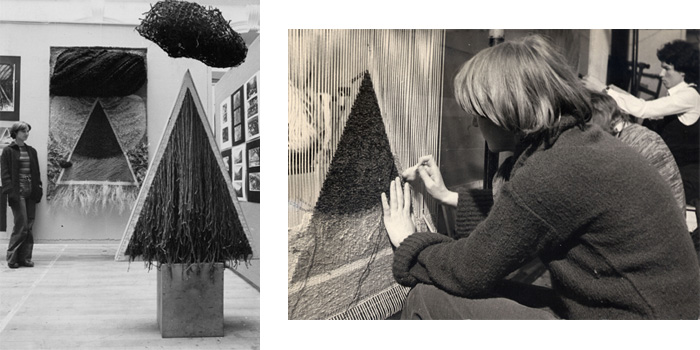 Baxter in her Diploma exhibition, 1976.
Baxter weaving in the Tapestry Department alongside John Brennan, 1976.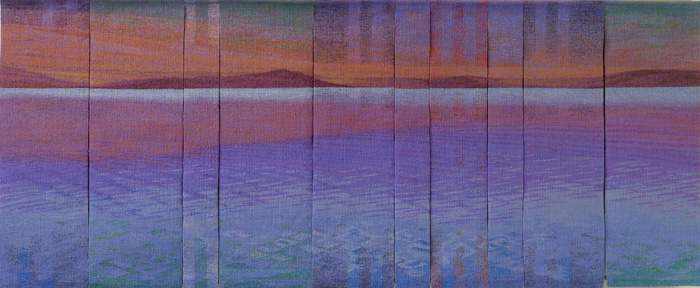 'Midwinter Naver' tapestry, 2007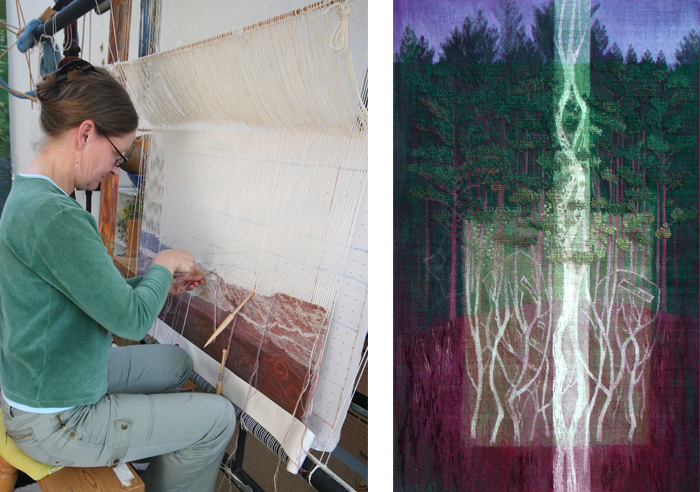 Baxter working in her studio and 'Hallaig' tapestry, 2010
Selected Exhibitions
2008-2010 'Artapestry 2' Denmark, Norway, France and Sweden
2007 'Landscapes of Home' Luddes Hus, Denmark
2006 'Sense of Identity' Contemporary Scottish Textiles, Japan

Selected Collections
The Harley Foundation
Alliance and Leicester
1979-1987 Weaver at West Dean Tapestry Studios, England and the Victorian Tapestry Studio, Australia

Influences
The layers of history on my home landscapes, a sense of place ..anywhere, Norse Sagas, Carl Jung, Prehistoric and Iron Age Rock Art, Australian Aboriginal Art, Rothko, Tarkovsky, Neil Gunn, George Mackay Brown, Sorley Maclean, Thomas Tallis, John Taverner, Nitin Sawney, my own ever-fertile subconscious
People
My father, landscape painter Douglas Baxter, who passed on a passionate response to landscape and from whom I inherited the sensibilities of several generations of Scottish landscape artists. Maureen Hodge, still my favourite tapestry artist, one of a very few that I think are truly great artists, she taught and continues to teach me by example through her work and her tireless advocacy for tapestry. Henry Moore who showed me that its okay to work obsessively from a narrow band of inspiration and who through the translating of his drawings, taught me most of what I understand about colour and form. Merrill Dumbrell who showed me that tapestry should be simple to weave and should embrace the random in its design. Marcel Marois, Sylvia Heyden and Frida Hansen whose tapestries I admire for very different reasons.

'The White Boat of Winter' tapestry, 2011