Hamish Robertson
Born 1979 York, UK, now living in Los Angeles, USA
1999-2002 BA (Hons) Tapestry
My foundation year in Leeds saw my work explore many disciplines and practices. Enjoying the challenge of each of them, I was far less focused on pursuing a particular medium than the tutors would have perhaps preferred and they, quite rightly it would seem, recommended I apply for ECA's Tapestry course. It was the perfect choice. The experimental nature of the course helped me follow my ideas in whatever medium suited them best while the disciplined practice taught me how to stay on topic and follow the ideas's natural thread (pun intended) within the project. Post-graduation, these learned lessons have been invaluable in my work, both artistically and professionally. I think about my time at Edinburgh every day and am grateful for the time with and encouragement of Maureen, Fiona, and Stephen. While my professional and artistic practices still vary greatly, it's always been the work I have approached with honesty and discipline—and, as Maureen would never let me forget, with the application of my own handwriting—that I have been most proud of and has ultimately proved most successful.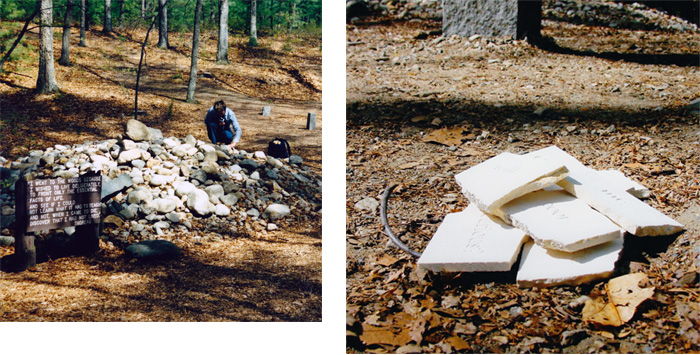 Degree Project: installing 'Walden Cenotaph' Concord, Massachusetts, 2002
'Walden Cenotaph' on the site of Henry David Thoreau's cabin, Concord, Massachusetts, 2002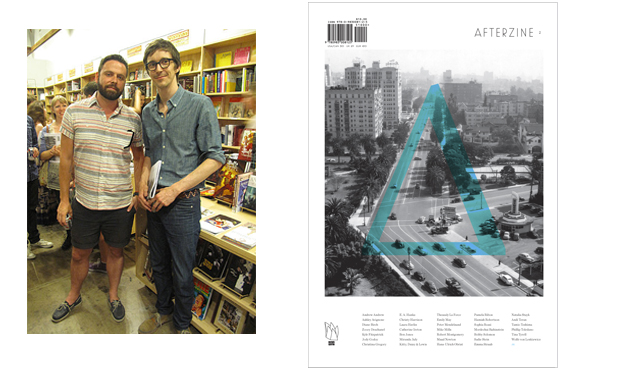 Bobby Solomon (left) and Hamish Robertson (right) at the launch of Afterzine, issue 2, at Skylight Books, Los Angeles, California, 2011. Photograph by Melody Nazarian
Biography
Since graduating ECA, my art work has been exhibited in group shows at Artists Space (New York) and Cargo (London). I edit and publish an annual arts and culture journal, Afterzine, which is available at Colette (Paris), PlayMountain (Tokyo), and the Tate Modern (London) and other worldwide locations. Since 2008 I have also been the Digital Design Editor at Vanity Fair magazine, at first from New York City, and now from Los Angeles, California.
Influences
Boundaries, Japan, Nature, Space Rock, Surveillance

People
Paul Auster, Jonathan Becker, Sophie Calle, Kenya Hara, David Hockney, Maureen Hodge, Mike Mills, Jason Pierce
www.hamishrobertson.com
www.afterzine.com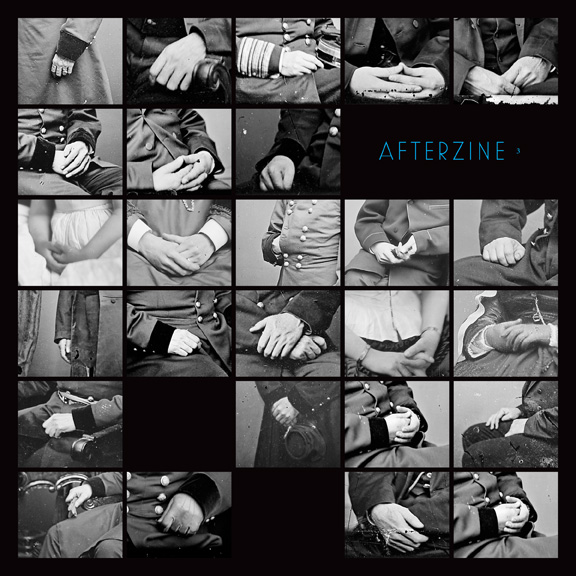 Afterzine cover, issue 3, 2011