Lynne Curran
Born 1954 Newcastle Upon Tyne, England, home and studio now in Italy
1973 - 1977 DA (Edin) Tapestry

The day I arrived in the Tapestry Department, it just felt right. I followed my instinct and stayed. These were the days in the old church building with the leaky roof. A few of us got permission to work at the weekends, wore fingerless gloves and kept close to the heat of the angle-poise lamps.

I loved my student days...the freedom of a whole day and three nights of life-drawing, the buzz of exchanges with other departments opening up the chance to work with other materials. I wandered through the corridors of this great establishment and explored a great new (to me) city, the old museum, the junk shops and turkish baths.

I carried my 'Bushey' sketchbook everywhere and a twin lens camera, spent my grant too quickly, lived in a caravan and walked everywhere collecting ephemera which got filtered through into sifted scrap/sketchbooks which eventually worked themselves up into sample pieces and finally appeared on the loom. I began to hoard beautiful yarns, all colours, fine, rough, thin, fat and torn strips of cloth from the boy scout's jumble sale and a summer job in a theatrical costumiers.

Now it's my turn. I LOVE teaching....and passing on the the pleasure I had when first drawn into the wonderful world of tapestry and of drawing....years later taking 'my version' of tapestry around the world and running courses from home.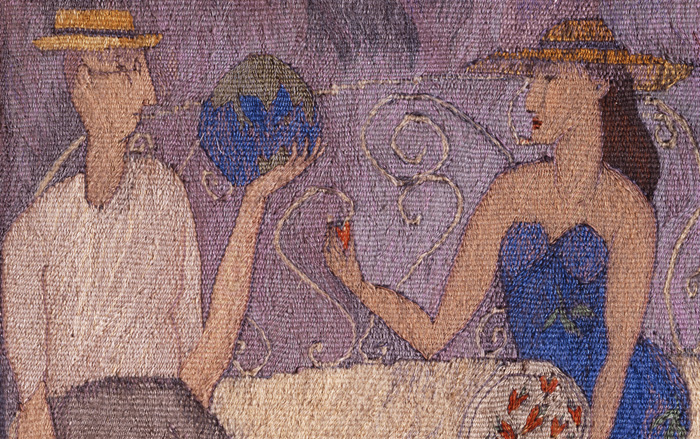 Detail of Tapestry 'L'Offrande du Coeur' 1993
In the studio (with Baxter)
Tapestry 'The Hidden Heart' 2000

Selected Biography
'The Hidden Heart', solo exhibition at The Burrell Collection, Glasgow, 1996
'All part of Life's rich Tango' solo exhibition, Southampton City Art Gallery, 1987
Commissioned by the Victoria & Albert Museum for the textile collection, 1987
Self Portrait acquired for the Uffizi Collection. Vasari Corridor, Florence, 2011
Visiting lecturer, Tokyo Zokei University, 2004 to present
www.lynnecurran.com
www.wsimagazine.com/uk/diaries/report/art/the-hidden-heart_20130324111700.html
www.vam.ac.uk/blog/artists-residence-va/guest-post-lynne-curran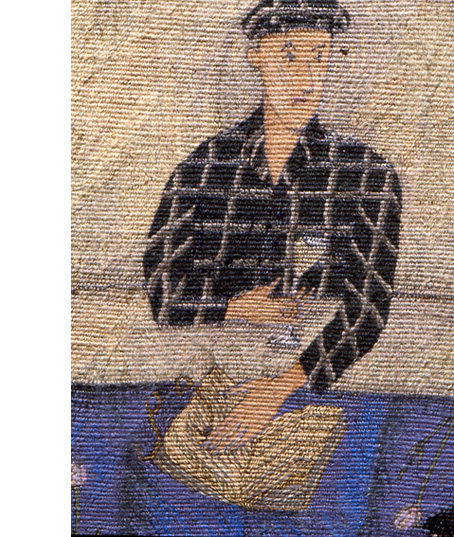 Tapestry 'The Cat's Pyjamas' 1996